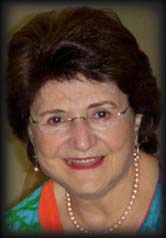 Hermine Mahseredjian was born in Jerusalem, receiving her Elementary Education at the Saint Tarkmanchats Armenian School & her secondary education at the Melkonian Educational Institute in Nicosia, Cyprus.  Upon immigrating to the USA, she continued her education at CSUN and obtained a Bachelors Degree in French and a Masters Degree in educational Psychology.  She continued her studies towards a doctorate program at the University of Southern California.  However, she changed her educational direction and became a Licensed Marriage & Family Psychotherapist (MFT).
She was employed as a teacher; counselor, school psychologist, curriculum coordinator (for Multicultural Studies at the Children's Hospital in LA) and school principal.  She holds a variety of California Credentials, including teaching, counseling, school psychology and administrative.
Hermine started the Armenian Studies program with two courses in 1983. Over the past 25 years she served as a professor & director of the program. In her mission to expand the Armenian learning experience on campus, she developed additional thirteen courses and established a Minor Degree in Armenian Studies.  She worked diligently with CSUN administration, community leaders, philanthropists, alumni and students. Her efforts have produced great results.  In 2002 a Memorandum of Understanding was signed between CSUN and Yerevan State University, Armenia, and a Cultural Immersion Program was initiated, for students & faculty, to pursue future scholarly exchanges in Armenia.