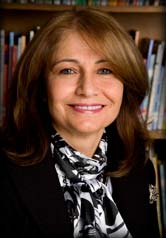 Ms. Shakeh Avakian is the Board Chair of the Governing Board of Ararat Charter School. Ms. Avakian is a member of the Department of the School Psychology Advisory Board at Loyola Marymount University and was awarded the Outstanding School Psychologist award from Los Angeles Association of School Psychologist in 2002.
Shakeh earned a B.A. and M.A. in Psychology and a Pupil Personnel Credential from California State University, Northridge. Her professional experiences include 20 years of practice as a School Psychologist, Coordinator of Special Education services, Supervisor of School Psychology interns, District Crisis Team member, and Professional Development provider.
She actively participated in the development of the Santa Monica Blvd. Community Charter School's initial charter in 2002, as well as the most recent 2007 charter renewal. In addition, she has been a member of the SMBCCS's Governance Council and curriculum committee since 2002 where she has gained expertise, leadership skills and the ability to objectively develop policies, as well as short- and long-term goals that are educationally sound and equitable for all stakeholders.