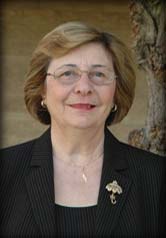 Dr. Silva Karayan is a tenured professor of Education and the Chair of the Special Education Department at California Lutheran University.
Professor Karayan's scholarly work and research are published in peer-reviewed professional journals.  She serves on the Editorial Board of two professional journals. She is the founding director of   CLU's Center for Academic Service-learning and the author of the  "Faculty Guide to Academic Service-Learning."
Professor Karayan is the recipient of national and regional teaching and leadership awards.  In 1996, in recognition of her 'innovative ideas and passionate teaching' she was unanimously nominated for the President's Award for Teaching Excellence.  In 1997, she received CCET's "Quality of Education Award for Distinguished Service to Children and Preparation of Teachers." In 2002, she received the AACTE national award for "Best Practice in Service-Learning Pedagogy" in recognition of her "significant contributions in the field of teacher education, through innovation, high standards and leadership."
Professor Karayan creates time to reach out to the educational needs of the Armenian community, offering her expertise, guidance and organizational skills.  She is the vice chair of the Board of Trustees and the chair of the Education Committee of AGBU Manoogian-Demirdjian School in Canoga Park and the AGBU Manoukian School in Pasadena.